Here's the 2nd record to add to my list of top 10 albums. And just to remind you, this is my top 10 albums that have influenced me and my music so far.
In case you missed #1, you can read about that here in this blog post.
My 2nd selection is:
Coleman Hawkins Encounters Ben Webster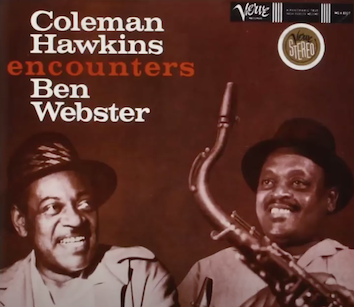 Here's a link to it on YouTube
And here's a link to it on Spotify
I first heard this not long after starting to play the saxophone and the sound of these two tenor Giants absolutely blew me away - I was utterly enthralled!
I remember it was the Summertime and I used to listen to this album for hours late in to the night. Unusually in England, it was a hot Summer and I have a really vivid memory of lying on my bed with the window wide open with the smouldering of the music blending into the hot Summer's evening.
I didn't really know or understand what I was listening to, but I did know that this sound made my hairs stand up. It wasn't just the notes that Coleman Hawkins and Ben Webster play, but the way they play them... there's so much meaning in every one.
These two musicians are two great story tellers and I sincerely hope that you can get swept up in the magic of this album too.