1 to 1 coaching sessions, focussed on you, your sound, your development.
Developing bad habits?
Need focus and direction in your practise?
Want professional feedback on your playing?


Learn from a highly experienced saxophone educator and performer, with more than 20 years experience.
Matthew is recognised internationally as an educator. His teaching practice has consistently been described as "innovative", "exemplary" and "outstanding".
In your coaching session Matthew will coach you towards your saxophone goals -
tell him what you want to achieve and he will coach you to get there
.
Whatever you choose to work on, good technique, posture and sound production will always be taught.

"A session with Matthew goes beyond tuition and learning, it is an inspiration. Matthew's teaching develops not only the skills and knowledge of how to play an instrument, but also and more importantly, who you are and how you want to be as a musician. I have only had four sessions but already I feel transformed by his brilliant approach. This sense of inner transformation is driving me to higher standards of playing with an intense desire to want to unlearn bad technique and learn afresh new and more effective pathways."
Want to chat to Matthew before signing up for a session?
No problem. You can email him here: [email protected]
How long does a coaching session last?
Each session lasts for one hour.


Where?
Sessions take place on Zoom.
How Much Does It Cost?
A 1 hour coaching session costs $100 USD

"I love my sax coaching with Matthew. In a very short space of time he's raised my abilities and confidence beyond anything I ever expected. The sessions are always challenging but realistic and achievable. His endless patience, encouragement and sense of humour make learning the saxophone fun and enjoyable. I really appreciate his flexibility in tailoring my lessons to my precise needs and interests at any given moment. For me, the sessions would be worth every penny at twice the price. My only wish is that I'd have found him much sooner!"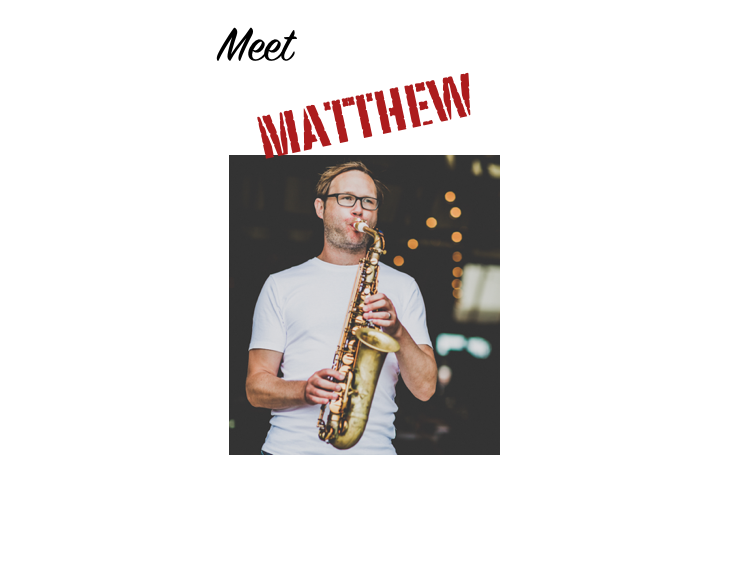 Hi! I'm Matthew Smith, the owner of SAXOPHONE Studies, where sax players come to learn how to create incredible sounds.
For as long as I can remember, I've been obsessed with the sound the saxophone makes. From the first time I heard Coleman Hawkins 'growl', I just knew I had to enter this amazing world of sound.
I picked up a saxophone for the first time in 1992, started performing professionally in 1994, and have been teaching since 2000.
Since opening the doors to my online classroom, I've had the great pleasure of connecting with adults at all stages of their saxophone playing journey. Some already play, others are returning to their practise after a 20, 30, or 40+ year hiatus, while others are following an unexplainable desire to pick up the instrument for the very first time.
My goal is to break learning to play the saxophone down into simple, step-by-step lessons that develop your technique at the same time as building your confidence.
Thanks for submitting your information! Please continue with the checkout process.
Frequently Asked Questions
How do I schedule my appointment?
Upon purchasing coaching, you'll receive further instructions on how to book a time for your appointment.


Can I purchase coaching more than once?
Absolutely! Booking here is just for one session, but most people have multiple coaching sessions over time.


Is it ok to have a list of questions to work through?
I love questions! Make a list and we'll work through them. No question is a "silly" question either.


What if I need to change the date of a booked coaching session?
There is a 48 hour cancellation policy. Any sessions cancelled within that time must still be paid for. Any cancellations with more than 48 hours notice can be rescheduled to a mutually convenient time.